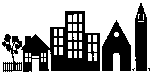 Advocating Inclusive and Dynamic Communities
Supported Life Conference
(since 1987)
Developed as an attempt to bring a state-of-the-art conference to the greater Sacramento area, the Supported Life Conference began in 1987. Due to overwhelming response, it has been held annually since then and has grown to be the best-attended conference in the field of developmental disabilities on the West Coast, with hundreds of professionals, teachers, people with disabilities and family members sharing information, learning, and gaining encouragement from our focus on state-of-the-art efforts to create fully inclusive communities.
Inclusion Celebration
(since 1993)
In the midst of our busy lives, it is important to take time to celebrate the progress being made in California in building inclusive schools, communities and workplaces. At this celebration, we honor the people behind these changes — people with disabilities, families, educators, service providers, employers and neighbors — who extend themselves to make these beliefs a reality.
California Statewide Self-Advocacy Conference
(since 1996)
In partnership with Area Board 3 and others, the Institute co-produced the first-ever California statewide conference on self-advocacy in 1996. It is planned and implemented by and for people with developmental disabilities from all over the State. Experienced self-advocates teach and mentor peers about independence, empowerment, citizenship, and involvement in the community. The conference is an annual event which draws hundreds of attendees each year, attracting participants from all over California.
Click here for information on THIS YEAR'S CONFERENCES w/registration details